What makes your online identity indistinguishable from the millions of other brands trying to get everyone's attention, causing you to lose your target audience to the few at the top?
It's a sure bet to say that it boils down to the quality of your internet marketing.
Having a poorly managed internet presence can keep you afloat (at best), but you need more than that to be at an optimal advantage.
Learning precisely what it takes to fire up your online presence is the first step.
Hiring an internet marketing agency is the way!
Local Businesses and Internet Marketing Services from a Local SEO Company
Your local business goals might include exploring the various opportunities that the digital world offers to boost your sales and grow.
That it does in fact include that goal, doesn't make it likely to happen just by riding on a powerful wish for it to be. Only the actionable step of seeking out the best team to help put your business on the map and visible for all potential clients to see is how to make it work.
A digital marketing team that includes a local SEO company based in your locale can help you ignite your online presence.
Here's how.
Online Reputation Management & Local SEO Services
Digital marketing services, if well managed, build a good online reputation for businesses. With that, positive reviews come rolling in. Likewise, businesses make the mark on local searches and local listings.
A digital marketing agency offers the benefits of improving operations and service, gaining and retaining customers, ranking higher on search engines, standing out from the crowd, earning audience trust, and many more through reputation management.
Content marketing for the Best Local SEO
This digital marketing strategy involves everything content-related. Whether videos, blogs, or images, various means of content are employed to push products and services on local search.
Video marketing is another strategic way a digital marketing company helps promote businesses. Using video content, they promote services and products.
Social media marketing
Social media platforms like Facebook, Instagram, and Youtube are great ways to connect and stay engaged with an audience. With social media marketing, you can share content with your target audience, interact with them (this would help you understand their needs better and how you can improve your services), and also, make sales.
Social media is another great avenue to place ads successfully. It can be through social media ads or influencer marketing which is also an effective strategy for marketing.
Influencer marketing leverages established influencers who have lots of followers on social media to market products or services. These influencers have established followership and trust from their followers, hence, the best access to them.
More so, affiliate marketing is another marketing strategy. When there's something to gain, individuals will take up the responsibility of marketing products and services in different creative ways to make sales. Affiliate marketing allows interested candidates to market your products for a percentage or commission.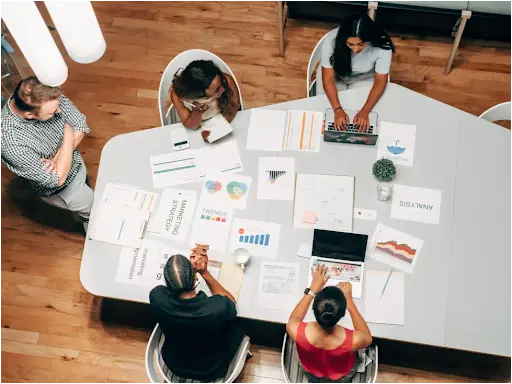 Analytics from Local SEO Companies
Checking the stats is an awesome way to track marketing efforts and performance. Consistently following the performance of your internet marketing service helps brands improve marketing strategies for better results.
Local Search engine optimization (SEO)
Website traffic for a brand is improved significantly using the best local SEO services. These local SEO campaigns are geared toward increasing online visibility and conversion rate.
Usually, local SEO agencies take charge of local search engine optimization, however, an internet marketing company can offer good local SEO strategies that are key to business growth.
Great local SEO companies help local clients optimize their websites and generally improve local search performance.
A great local search company (SEO agency) uses SEO efforts in areas of keyword research, on-page local SEO services, local SEO audit, off-page optimization, and other up-to-date strategies to enhance organic search engine optimization for brands.
Impact of Local SEO Tactics on Local Businesses
Local business owners have the following benefits to enjoy from local search specialists;
Local Visibility: Local search companies specialize in helping local businesses gain online visibility using local search campaigns tailored to the needs of the business and the demography.
Foot traffic and conversions: It is the joy of every business to gain customers and make conversions. And this is the story of brands that partner with the best local SEO companies. Local Seo services work together to improve foot traffic as well as the conversion rates for brands.
Google business profile optimization: Google my business is a fundamental local SEO strategy that keeps your business on the map. With Google my business, your audience can easily locate your business given that it contains the basic information required for any brand. It includes your address, phone number, website address, and working hours. More so, this information needs to be constantly updated and a local SEO agency does this effortlessly.
Local Citation and Directories: This is a subtle local SEO campaign that is just as effective as other local SEO solutions. Being on local directories gives your brand a higher level of trust and credibility which will surely be recognized by search engines. An experienced local search company ensures this for their clients.
Targeted Ads: Local SEO services include ads on search engines. For example, pay-per-click ads. These ads by local SEO firms target a specific audience who may require those products or services. This ensures that resources and money are not wasted as the ads are targeted to users who need them.
Final Word
The digital space has no limits and is free for everyone willing to build on it. Digital marketing strategies from a top agency have the power to draw all the attention your business needs and generate leads worth the effort. You're encouraged to give it a try!
Contact us at Padula Media to discuss how to make it happen.