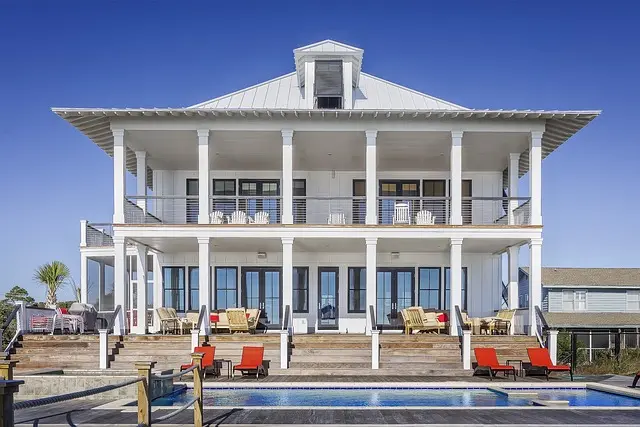 The videographer's job is not simple, especially in real estate marketing.
The maneuvers and skills used to capture and beautifully depict the potential of a property in a way that is convincing to clients is no child's play.
Let's take a look at what that means.
Key Points of a Real Estate Drone Videographer
Aerial Shots
Potential buyers of a real estate property experience the full view of the surroundings and neighborhood alongside the property. Just like wedding videographers and videographers for other events, real estate videographers use drones to bring different perspectives to life. A full understanding of the property, surroundings, and amenities in the neighborhood is easily captured using a drone. Different heights and angles that may not be captured with a level camera are taken with ease by real estate videographers near you.
Size and landscape of properties
There's just so much that a real estate videographer using ground cameras can cover. An expanse property may take so much time, cost, and energy to cover and may still be at the risk of not being fully covered. However, a real estate videographer who takes advantage of drone technology is able to effortlessly capture the whole expanse of land or view through every corner.
Property features
Estate features like the security, pool, gym house, garden, and more are highlighted by a professional videographer. All the details of an estate are unmasked and showcased for a wholesome experience. More so, features of the architecture of a property are made available to potential buyers. Such features include solar panels, rooftops, penthouses, and the like. Drones are best for capturing these angles fully.
Virtual tours
Potential clients navigate properties using virtual tours that drones capture. They know what to expect beforehand and can decide whether to check out the physical location in person or not.
Cinematic appeal
Real estate videography endorses artistic and creative shots for a showcase. Transitions and appeal from drone filming create excitement for the audience. A real estate film transitions from different angles and perspectives of a property to another thereby building up thrills and excitement. This engages the audience and gets them interested.

Branding and marketing
Real estate videos with aerial shots have more audience on online listings. Online vendors who utilize drone technology for their real estate videos attract more audience and this boosts their portfolios as well. Reviews on a single film can trigger the ratings of a property and as more people read reviews, it increases the more for good sales. More so, photos and videos from such brand gives a professional feel and undertone to the audience.
The Distinction Between Real Estate and Wedding Videography
Video services across all kinds of events stand to achieve the main objective of creating a video or film for immediate or future purposes. Surely, there are varying reasons and in this section, we will discuss some of the differences between real estate and wedding videography.
Here are some distinct ways that real estate videography varies from wedding videography;
Purpose
The purpose and objectives of videographers vary depending on the event they are covering. For real estate, it may be a part of marketing materials needed to achieve business goals. You may say that the real estate videography is strictly professional and this would be communicated in the style of the video. Real estate videography focuses on properties like houses, lands, and commercial spaces for sale or rent and the focal point is the location, amenities, design, and landscape.
Meanwhile, a wedding video has a different purpose which is not essentially formal. The objectives of a wedding videographer wrap around capturing the moments of the wedding day – special moments of the ceremony and reception, friends and family, toast, and more. A lot of emotions are associated with the wedding day and the best videographers highlight these points.
Concept
The sole aim of real estate videography is for marketing and increasing sales therefore the concept and narrative are informative. Passing across information about properties in a crystal manner to attract customers and make sales.
For wedding photography and videography, the aim changes and it is to tell a love story about the couple. A more creative and flexible approach is taken for this. The couple along with their guests are woven together to tell a story.
Style
The style for a real estate video is formal and straightforward. Clear communication of properties is the priority when hiring professionals for the job.
The decor, vendors, special moments, and celebrations in a wedding ceremony are used to create lasting memories in the form of a video for a wedding. The videos are delivered in less formal yet creative packages.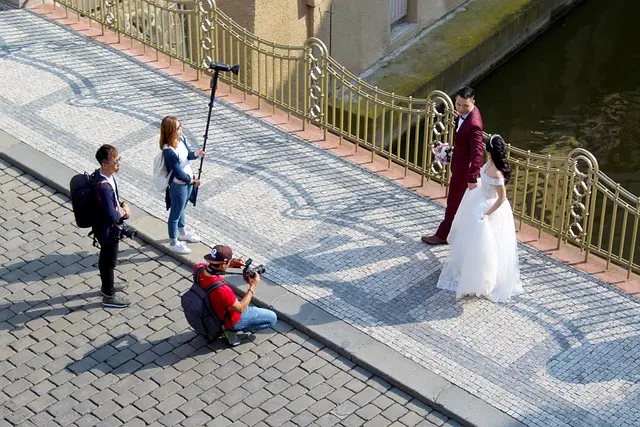 Technicalities
The videos and photos for a real estate project are more precise, straight to the point, and required to capture specific angles that represent the needs of potential buyers. However, the services for a wedding event are more dynamic and flexible. They are suited for spontaneous moments and unexpected emotional responses.
Client relations
The interaction between a real estate videographer and a client is formal and clear. It often includes an understanding to capture the features and details of a property. These features are notable and easy to spot. More so, the editing process requires nothing more than having a quality video that represents the property well enough.
On the other hand, the interactions between a wedding videographer and the client are mostly based on a special request. Here, the clients communicate what they want for their video and photos which may not always be express and clear. The videographers and photographers may have to work with their instincts and experience. Additionally, a lot more work goes into the editing of the big day. Pieces and bits of the event are put together to create a memorable final product.
Final Word
When you find videographers near you, you have achieved half of your plans. Whether it's during your wedding planning or a real estate exhibition, videographers and photographers bring out the best in your project. They collaborate with you to achieve your aims and objectives based on your personal request.
Contact us now for your wedding or corporate events coverage. Our professionals skilled in videography and photography are available in popular cities for your special request.