Local SEO Firms Philadelphia
Thomas Padula is a Philadelphia SEO expert who founded one of the top SEO firms in Philadelphia – Padula Media.
Why Choose Local SEO From Padula Media In Philadelphia
Do you want to improve your search engine optimization efforts in Philadelphia? Padula Media is here to help. We're a full-service digital marketing agency, and we specialize in web design, marketing, and more! Our team knows what it takes to get high rankings on search engines and can get more sales and leads for you!
We are proud of our local search engine optimization services in Philadelphia because they produce results you can see. Our team of professionals works with you to build a customized SEO campaign that meets your budget and requirements!
In fact, we help you with keyword research, optimize the site for local search, and create local directory listings. Plus, we track the progress to see how your SEO strategies are doing in Philadelphia, PA! Are you ready to improve search engine optimization with our digital marketing services? Please call today to get started!
Google My Business is a constantly evolving online solution that requires strategies. We stay up-to-date and give you tools to implement, including a way to easily read customer reviews and interact with them! This allows you to have a stronger connection with your customers and improve your customer service and satisfaction. Padula Media is more than happy to aid you with local SEO in Philadelphia for your My Google Business Page to keep it up-to-date and efficient, allowing you to focus your time and effort elsewhere.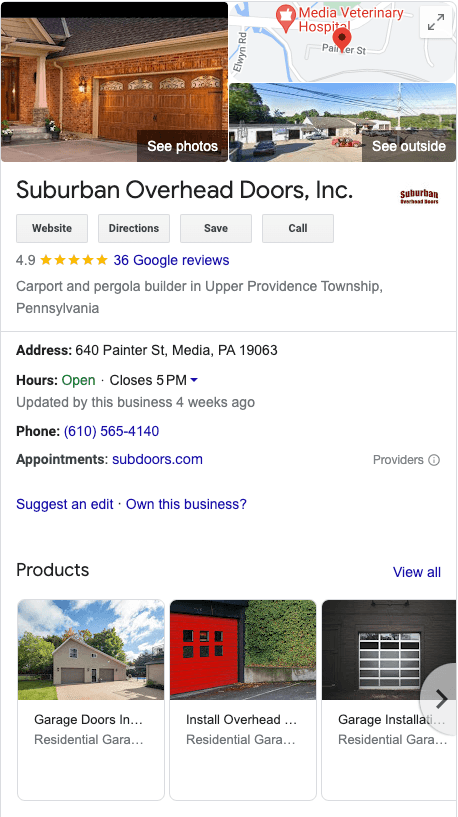 A part of our software
With our assistance, you can manage reviews, deal with reputation management, and keep your branding consistent across all platforms. We help you stay organized, which is why you need our Philadelphia SEO company!

Insights to your page
It's easy to analyze profile interactions and customer behaviors with this function. Make data-driven decisions to help shape your digital marketing strategy and improve your online presence.
Content generation.
You can engage more profile visitors when you have branded content. We help our clients grow by marketing products accordingly, acquiring customers quickly, and improving lead generation.

Review campaign management.
Building an online reputation takes time, and search engine optimization is at the core of what we do. Monitoring reviews can help customers in Philadelphia, PA, understand what you do and stay engaged. A GMB page is crucial!
Increase Online Visibility With Our SEO Company!
We focus on these things:
Interest
Our digital marketing agency offers all types of services to achieve the results you want. Keep people interested with search engine optimization and web development.
Desire
We are a local SEO company, so we know what it takes to rank higher on the search engine results pages. Find appropriate keywords and phrases that match your Philadelphia, PA, business!
Take Action
Search engine optimization is crucial, so contact us to get a free consultation today!
How We're Different From The Rest
Digital marketing strategies vary because each company is different. We:
Digital marketing from an SEO company is one of the best options available in Philadelphia, PA. Our services include:


Building eCommerce Websites
Great products are only the beginning. Search engine marketing in Philadelphia, PA, helps you stay on top of the SERPs. Let us help you!
When you choose an internet marketing company like ours, you receive complete transparency and a solution to your SEO needs. You get a:
How Search Engine Optimization And Digital Marketing Help You
Search engine optimization offers many advantages for your business. Here are just a few ways your Philadelphia, PA, brand benefits:

Increase Traffic
Your goal is to be on the first page of results to bring more people to your website. About 75 percent of people don't go farther back than that, so you must be at the top!

Improve User Experience
You have to give people a great experience. Search engines focus on the best results, so the top listings must be helpful. That means people stay on the website longer, sending positive signals to Google that it has the information needed.
Higher ROI
Investing money into a marketing strategy is crucial, but you want to ensure that it generates results for the business. SEO targets those who actively search for services and products, so there's a higher potential to get more revenue. The target audience is qualified, so you're not wasting time advertising to those who aren't interested.
Grow Your Business Using Our Philadelphia SEO Firm
You want to grow your business online because it's the ideal option. Small business owners rely on SEO services because they help with paid search, web design, and building website traffic to the site.
Our SEO consultants are uniquely qualified to help. We ensure you get more customers, target keywords, and build organic traffic. In fact, our diverse skill sets have helped hundreds of people focus on web design, email marketing, and much more.
Call our SEO agency today for your Center City business!
Frequently Asked Questions (FAQ)