One thing you can always count on is the memories created on special occasions. It may be a marriage proposal, birthday, anniversary, or even celebration of life. These memories however can be easily lost in time but here's the good news, they can be stored and enjoyed for as long as possible. Videography is the surest way to make this possible and thanks to technology, it only gets better.
The services of a drone videographer may vary depending on the nature of a project or the request of the client. This may also affect the prices and cost of the service. In this blog, we will discuss some benefits of using drone services for your wedding photography and videography.
Perks of Having a Drone Videographer for Your Wedding Video
These are some reasons you should find videographers near you for your wedding day video and photos;
Unlimited creative shots
There's just no limit to how creative a professional videographer can get with a drone. Unlike previous times when there was no drone, videographers were held back in a box. Their creativity was limited due to restraints in the areas and perspectives they could capture.
Aerial footage
Wedding videographers can easily capture aerial shots of your wedding day. Key areas like the wedding venue, decor, cake cutting, vows, amazing moments, and more are all covered by a wedding videographer using a drone. The upside to this is that the wedding event is more appreciated and perceived from many different angles.
Creative storytelling
Wedding events are unlike other events like corporate events where the video coverage is solely for business and impersonal purposes. For your wedding ceremony, lifelong memories are being created and may be missed in the blink of an eye. It is a one-time experience but lasts for as long as the rest of your life. Why not go all out and save bits of every moment?
More so, your wedding video is one that your children will experience personally when they are of age. Your video can tell your love story on its own. Aerial shots provided by drone videography and photography piece stories of the event together in captivating ways. Let your videos and photos tell your love story.
Flexibility
The big flex with drone videography is how it is able to adapt to different circumstances and conditions. Regardless of the location, drones are able to cover events properly.
Broadcast and live-stream
You may consider broadcasting your wedding ceremony for any reason at all. Maybe because of your social status or for your fans. Whatever the case may be, the best videographers near you can live-stream the event seamlessly. The raw footage of your wedding can be optimized on the go thereby giving your audience or fans a wholesome experience.
Survey and Mapping
You may want to spice things up for your wedding so here's the gist. Wedding videographers can do a quick survey of the location you intend to use for your wedding dinner and wedding occasions. This survey and mapping could be done a while before the events and included in your wedding film for perception and backlog stories.
The survey may help in preparations as well (better understanding of the landscape). This gives both you and every vendor responsible for the event's success insight into how to maximize the venue properly. For example, if you have an idea for a fun game at your wedding reception, knowing the venue well enough may come in handy.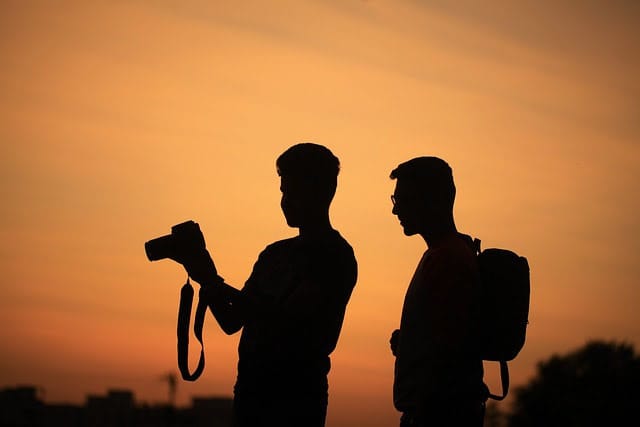 Virtual tours and 360-degree panoramas
While creating the story of your wedding, the video may include tours of the venue landscape and what makes it a special option for you and your partner. A professional videographer captures the whole landscape even before the event for effects and a wholesome experience.
More so, the filming process highlights all the details of the event from all angles. What a conventional wedding videographer may not be able to achieve due to limitations is achieved by a wedding videographer who uses drones.
Safety and access to remote areas
Before the wedding day, good photos and videos of the prospective location can be taken for security reasons. While choosing a location, drones are able to access any corner at all to uncover possible threats that you may forget to check for yourself. Photographers along with videographers leverage this service in preparations for the wedding day.
Custom experience and expertise
The experience and expertise that professional videographers bring to the game are exceptional and can't be short-changed. Your big day is more secure with professionals at the wheel of your wedding videography and photography. They are able to create memorable and aesthetic videos and photos based on your personal request and taste.
Efficiency
Drone videography is efficient and effective in so many ways. For your big day, distinct moments are covered in detail. Your guests, vendors, proud and emotional moments, and the full weight of your celebration are all recorded from various angles. The final product of your wedding video is also pieced together in such grand style that showcases creativity.
Additionally, drones take less time to set up, take off, navigate all angles, capture real-time videos and photos, and more. This makes it easier to capture and edit your wedding film. More so, it saves costs to hire wedding videographers near you for better results and quality output.
Final Word
The use of drones by videographers has created a buzz in the video production industry, especially in popular cities. Film production, music videos, and other important events that deal with filming have embraced this technology and are making waves with it. You too can create your world from your wedding in a grand style. From the pre-wedding day until the end of your reception, you can record the details of your event to the littlest part.
Your wedding videography can be taken care of by the best company available to you. Down to every single photo, we will give you memories that last a lifetime. You can read reviews about what we do and how we can give you the best deal.
Contact us now for more reviews and information regarding our wedding videography.